Hello everyone!
Our new update is here. Let's see what's new!
— WEAPONS —
Some weapons skins are now the same color as their pickup:
— SERVER PAUSE & ADMIN —
This has been reworked. In the last version an admin could pause, but there were two problems:
Others players were not notified and thought the game frozen.
When a player connected to a server which was paused, it would unpause without notice.
So with this update, when an admin set a server on pause, all players have a message on the middle of the screen. Moreover, the game cannot be unpaused as long as the admin doesn't allow it. Check this video to see how it works:
— Movements reworked & netcode —
A large part of the movements code was reworked (mechanic and network parts).
About the movement mechanic part:
Falling jump: Cannot be used if the player is near the ground (few centimeters), but can be used after each bounce if the height above the ground allows it.
Super Jump: Can be used if the player is near the ground (few centimeters) and when the player touches the ground.
Bounce: Bounce height is now calculated based on your speed and the slope on which you arrived. For example, a player who bounces slowly will do smaller bounces than a player at high speed.
About the netcode part:
Since bounce where implemented, when playing online, sometimes the players can have very quick camera backlash. This was a network issue due to player and server synchronization. Most of the players don't detect/see the problem due to a low ping. But now, for those with a high ping, you will be able to bounce without problem since the script was fully reworked and optimized.
Demonstration:
— HUD update —
Some changes were made for the HUD. The most important is that the stamina gauge & health point are now located on the bottom center of the screen.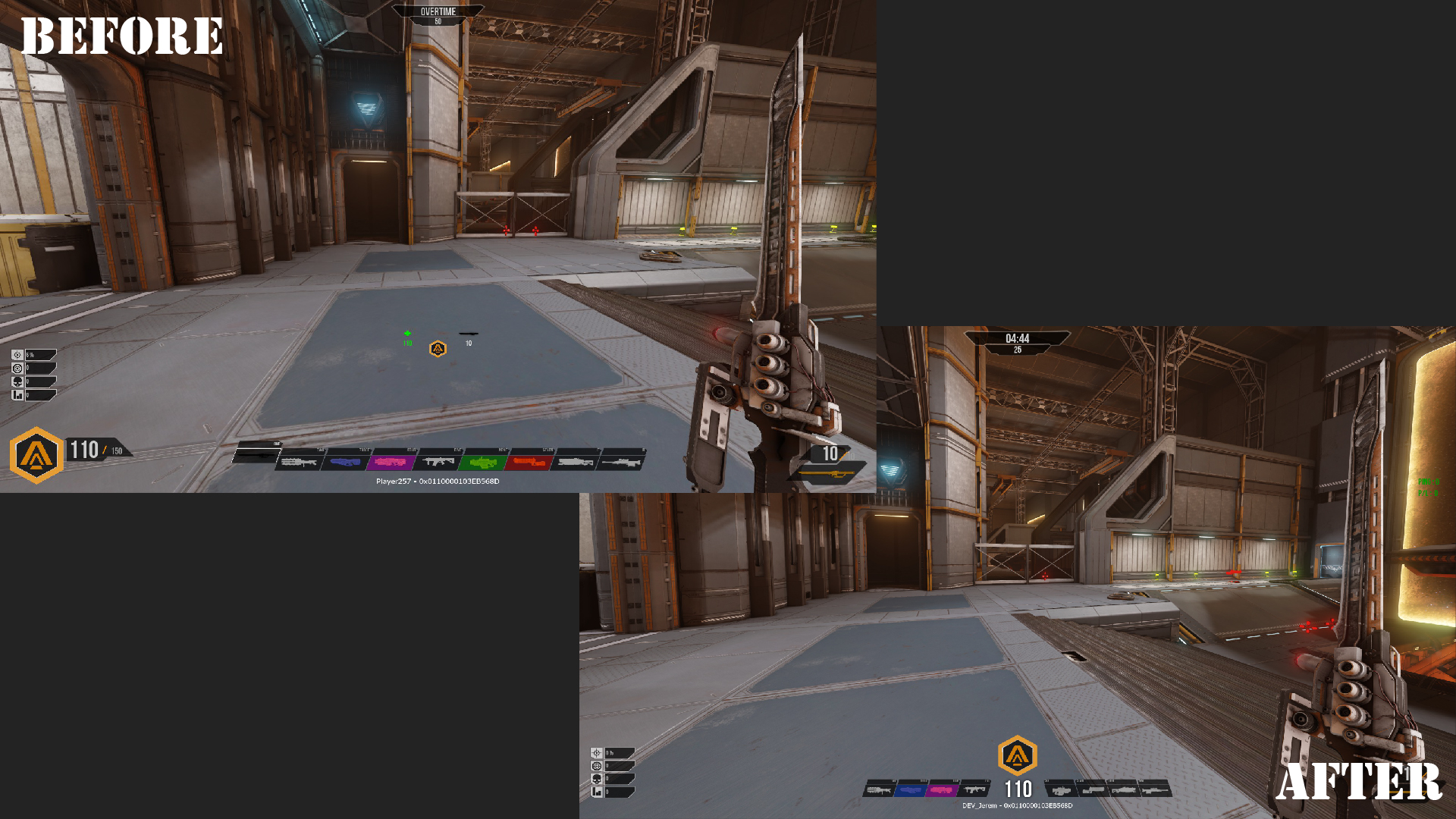 — Other updates/fixes —
Some Stats fixed.
Packet Loss update fixed.
Teleporter touch / untouch players reworked.
If a map is voted during the countdown at the start of a game, then after the map change, the match starts automatically without any countdown: fixed.
25 HP / 50 HP pickup colors switched.
First elimination on warm-up fixed.
Sound bug fixed for community maps.
Jumper player collision radius is bigger.
Elevators trigger delays.
Player Ready added on scoreboard added.