Hello everyone!
It's time for the patch note. Let's go!
GAMEPLAY UPDATE
DUEL
Characters balancing. Now light, standard and heavy characters have their own stamina reloading time.
Light: 10 seconds.
Standard: 12 seconds.
Heavy: 14 seconds.
WEAPONS
Sniper damage managed based on the characters types:
Light: -10% of damages.
Standard: 0% of damages.
Heavy: +10% of damages.
TECHNICAL UPDATE
STEAM API
We updated the last version. There are no changes for players, but an advantage for server hosters. It's now easier to have a server ID and get referenced in the server master list.
FAIR PING
As our tournaments are open to North America and Europe, we needed something to allow players to play with the same latency. We worked on a new feature that adds input latency to the player with the lowest ping. A small example to explain how it works:
PlayerA has 100 ms, and PlayerB has 35 ms. Basically, on competition, PlayerB has a severe advantage. The server calculates the difference between players' pings and adds the difference to the advantaged player.
So PlayerB has a ping of 35 ms + 65 ms of input lag.
This feature isn't activated by default. Administrators need to start servers with "?PingRegulation=1" to be applied.
LIGHTING
We are working on new skin materials for weapons and characters, and to have better lighting with them, we have to update all maps by adding new lights. We are currently testing the Instagib weapon. Take a look:
MAPS: STRUCTURALS CHANGES
DM-SPACEDOCK
A room added with a new pickup distribution. The objective is to have a better balance of the map regarding hitscan weapons.
Middle extension, give more protection for players spawns: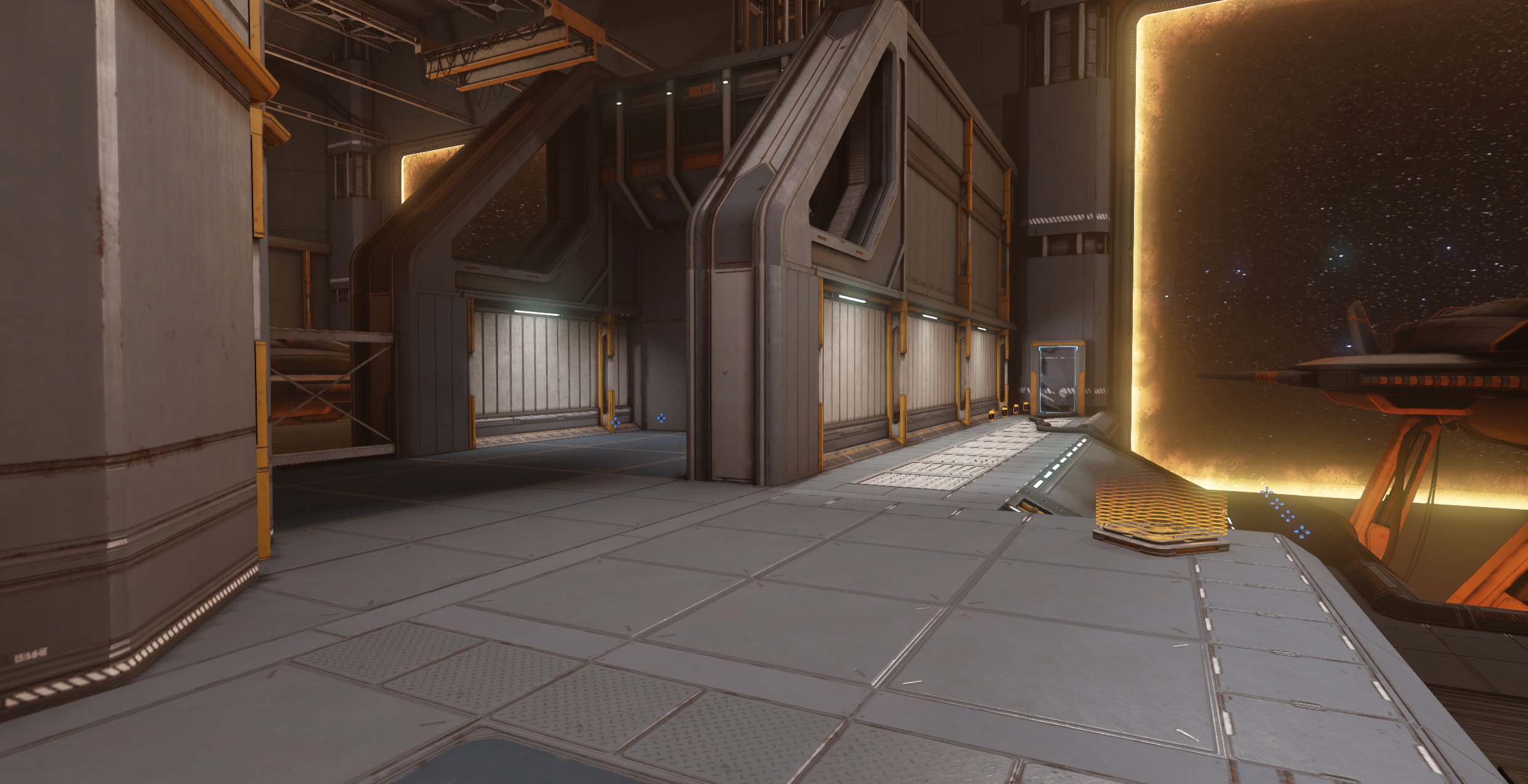 CTF-SPACEDOCK
Same structural changes as DM-Spacedock but for teams 🙂
CTF-BASKETBALL
Global structural change. The map is scaled for 3v3 players (instead of 5v5)
DUEL-CREUSET
Map extended with a new room
DUEL-FUSE
Map extended with new rooms. It represents an area increase of 40%.